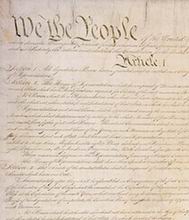 I was having a conversation with a co-worker and she mentioned a celebration in Mexico that as a child, on a particular day, people tossed water on one another and at the end of the day they went to the river and either jumped in it or swung across it. It sounded very interesting and from what she could remember, it was a religious celebration pertaining to holy water.

We got into a discussion on Mexican culture and it got me to thinking about American culture. Then my co-worker asked a good question. What is American culture? I thought for a second and I have to admit, it was hard for me to answer that. We are a hodgepodge of immigrants so there is an abundant amount of sub-cultures but does a distinct American culture exist?

To answer this question, I must first define culture.


a. The totality of socially transmitted behavior patterns, arts, beliefs, institutions, and all other products of human work and thought.


Continued…



When most people think of America, they think of a society addicted to material, money, and celebrities and obsessed with sex. There is a sense of arrogance, high-mindedness and greed but also one that believes in freedom, justice and individualism. So if I had to take into account the complexity and diversity of America, could I say that there exist a culture that is distinctly American. The answer is YES. There is a distinct American culture and it was created with a stroke of a pen when Thomas Jefferson wrote:
"We hold these truths to be self-evident, that all men are created equal, that they are endowed by their Creator with certain unalienable Rights, that among these are Life, Liberty and the pursuit of Happiness. That to secure these rights, Governments are instituted among Men."
Our current political climate is challenging those beliefs but this statement is deeply entrenched in the American psyche and is something that is more than a statement… it's a way of life. It's the basis on how Americans live.
It is the fundamental principle we use to challenge the government whenever we feel that it is overstepping its authority. It is the one belief that every American, regardless of political or religious affiliation believes. It is the reason that America is a land of so many sub-cultures. People from around the world come here with their beliefs, their values, their dreams and accept that statement as truth. Even while many reject the individualism and the materialism, all accept the premise that they have the right to pursue the life they want as long as they don't infringe on the rights of others.
So the truth is, there is such a thing as American culture. You'll see it in all the different ways we dress. You'll see it in all the different music genres that are available to us. You'll see it in the numerous rags to riches stories. You'll see it in Civil Rights Movement and in the boycotts of movies organized by Christians. Folks from all walks of life frequent Chinatown, Little Italy and participate in the Puerto Rican Day Parade is proof of American culture.
We do a lot of things a lot of different ways for a lot of different reasons. But we do them with confidence knowing that we are free to pursue this life as we choose. So, as much as McDonalds, rap music, American Idol, E.T., Super Bowl parties and Ipods are a part of our culture. None of it would be possible without most import aspect of being American… FREEDOM!
Now, for some fun.
1. What are some aspects of American culture?
2. What do we as a collective believe?
3. Is there something uniquely American that brings us together?
4. Start every statement with… If you are American…How many can you come up with. Here are some of mine:
If you are American…
1. You believe that marriage is union based on love and not an arrangement made by other family members.
2. You believe that it's your right to insult a politician but would consider it rude to insult one to their face.
3. You believe that just because a person is born poor doesn't mean they have to die poor.
4. You stop at read lights no matter the traffic conditions or time of day.
5. Thanksgiving and Christmas is a time to be with family, Easter is a time for Church, Memorial Day is the start of summer and St. Patrick's Day is a time to drink.
6. Sticker prices on vehicles are negotiable.
7. You actually understand the concept of a working vacation.