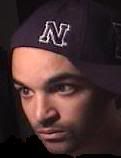 One of my favorite bloggers is calling it quits. Dell Gines, a blogger I admire a great deal is leaving the blogashpere to work on some important endeavors. I discovered his blog when I was a regular on LaShawn Barber's blog. He was one of only few that took her to task and after LaShawn's narcissist ways got to be too much, many of us migrated to Dell's blog.

I respect his passion for bringing economic development to the black community. Although he is a conservative, he is of a different breed than your regular 'talking out the side of their necks' black conservatives. It is only because of Dell, Cobb and a few others that I have not completely given up on black conservatives.

Well, it is a sad day but we wish the best the Dell and his pursuit. Good luck blogging friend. We wish you much success.