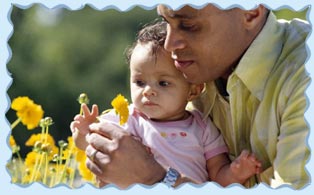 Guy #1: Someone I know has an ex-girl friend that does all kinds of crazy things to him regarding visitations with his daughter. He sends money when he can but generally speaking, she uses his daughter like an axe over his head. I've told him several times to go to court, file for visitation and get the child support taken out of his check. He has yet to do it.

Guy #2: Another person I know decides to stop paying child support after he loses his job. Several months pass and he receives a bill for the past due amount. He throws a fit and threatens to take his ex to court for shared custody. It'll never happen because he's a nutcase but he throws it out there.

Guy #3: A friend's ex would quit his job whenever the DA caught up with him about his child support. This man went from a $17 an hour job to a $10 an hour job just so he could pay less child support. It didn't make sense, but like I said, he eventually quite the $10 an hour job.

It would seem that the least a man could do is pay his dues. Ok, some women may mess the money around, but there is nothing anyone can do about that. If there are concerns about the money, why not go for custody rather than skip on the child support?

Most guys pay somewhere between $300 and $600 a month. Anyone with a child will tell you that it takes a lot more money than that to raise a child. Am I not understanding something?

Really…. What's the issue with men and child support?